International Activities
The 6th WIPO-PCT WG Report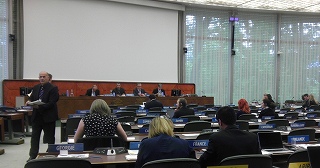 Conference hall
In Geneva, Switzerland, a meeting of the 6th PCT Working Group of WIPO was held May 21 to 24, 2013. From JIPA, the Patent System Harmonization Committee°«s members, Mr. Ota (Sekisui Chemical), Mr. Nagano (Panasonic Healthcare), Mr. Kumakiri (Hitachi), and Mr. Yoshioka (NEC), attended the meeting and expressed their opinions as representatives of Japanese industry.
At the meeting, the following 2 issues related to the future of the PCT system were the main topics of discussion:
To hear the opinions of all parties concerned, both developed and developing countries, and governments and users of the system on various problems in the current PCT system, including coordination between the international phase and the domestic phase of patent applications, and to incorporate these opinions into a long-term policy, and
To propose improvements in the current PCT rules and operations, including e-PCT, a new application system under development, and formal integration of PPH into PCT.
JIPA members participated in the discussion to work toward appropriate development of the PCT system so that it is beneficial for both the Patent Offices and system users. Regarding (1), JIPA representatives indicated that JIPA supports the proposal currently being discussed to require a reply to negative results found in the international phase, because it would improve the quality of examinations. However, they also expressed their concern that, from the viewpoint of system users, it would increase the burden on applicants if the proposed requirement is enforced under the current circumstances, in which no unified rules have been established on how results in the international phase are utilized by the patent offices in each respective country, with each patent office using different criteria for determining patentability. These opinions of JIPA were included in the Chairman°«s Summary of the meeting. Regarding (2), based on the current state of the PPH system, in which more than one bilateral agreement exists, the JIPA representatives expressed their hope that the system will become sophisticated in the future so that users can take advantage of its merits more easily and at lower cost.
New proposals were also presented from representatives of governments and organizations, and the discussions were very constructive this year. The meeting seemed to be ending smoothly until the very last moment, when several developing countries expressed objections to the wording used in the Chairman's Summary, including wording about technological assistance to developing countries.
Although the discussion on this issue took considerable time, the meeting could be completed on the scheduled day under the firm leadership of the chairman, by adopting the modified expressions proposed by the WIPO administrative office. This incident revealed the North-South divide and how it influences the PCT system.
The next PCT-WG meeting will be held in the same season next year, with the issues discussed this year being deliberated in more detail.
JIPA delegation at the conference

The view from Mt. Saleve