Message from the President
Message from the President
Message from the President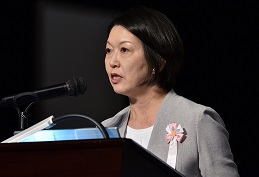 With the growing SDGs and Green Transformation efforts to solve global issues and the increasing importance of intangible property, including intellectual property, in management and business in the advancing Digital Transformation era, the role of the IP department and the nature of IP activities are changing dramatically. In our various activities of , it is necessary to be aware of efforts to solve such global issues. IP is an indispensable element in these efforts, and the role to be played and the expectations placed on us by the IP division are expected to grow even greater in the future.
Considering this situation, we will be conscious of the two ¡ÈG's" and two "D 's¡É in its activities. These four keywords represent the following perspectives.
Global: Competing on the world stage (activities from a global perspective, development of globally minded human resources, etc.)
Green: Tackling social issues (SDGs, environmental issues, etc.)
Digital: Responding to increasingly sophisticated technology (support for initiatives in cutting-edge technology and legal issues)
Diversity: Promote participation of existing member companies our activities and increase diverse new membership (e.g., women and IP, local members, minority IP, non-manufacturing industries such as service industry, etc.).
This year, based on the slogan "Creating IP Vision for the World," we will continue to communicate its IP vision to the world, focusing on the priority issues. None of these measures would be possible without the support of our members. Your understanding, cooperation, and active participation in our activities would be very much appreciated.
June 2023¡¡¡¡
Ikuko Shimogawara, President 2023