International Activities
Meeting with EPO Official in Tokyo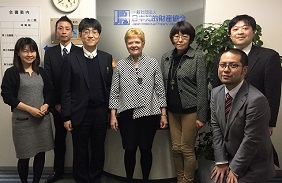 On January 25, 2017, Dr. Margot Frohlinger, Principal Director Unitary Patent, European and International Legal Affairs of EPO visited the JIPA Tokyo Office.
JIPA held a meeting to exchange opinions/information with her in which 8 JIPA staff members participated, including Mr. Akio Yoshioka, Chairperson of the International Second Committee, and Ms. Tomoko Miyashita, International Policy PJ Leader.
In the meeting, Dr. Frohlinger explained recent activities of EPO, such as circumstances of the European Unitary Patent System including the influence of British exit from EU thereon, and the office°«s efforts for more rapid examination. We actively exchanged opinions about the future schedule of the implementation of the unitary patent system, the opt-out procedures, etc.
We promised to continue to have such an opportunity to exchange opinions in the future.