Message from the President
Message from the President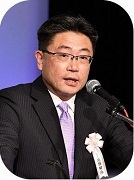 During this fiscal year, we will continue to be guided by the JIPA slogan
"Creating IP vision for the World."
The last year has been marked by a series of unexpected events and rapid changes, such as a movement toward protectionism. Recent changes in circumstances for industry have begun to transform the future of our world.
One of the major changes has been called the "4th Industrial Revolution (Society 5.0)." If this gains momentum, it is expected not only to increase companies' medium- and long-term growth and earning potential, but also to contribute to the development of new markets and innovations, and eventually to an increased economic growth rate for Japan. This is currently the subject of active discussions at a national level involving the participation of various stakeholders, such as the government, relevant agencies, companies, and academic circles.
IP management practices based on the conventional patent system will need to change in response to the 4th Industrial Revolution (Society 5.0). IP law will need to cover not only conventional intellectual properties, such as patent rights, but also informational products, such as data that generates added value and the results of analyzing such data. In the future, companies will need to take these new types of valuable property into account before establishing their IP strategies. We are at the very beginning of the 4th Industrial Revolution (Society 5.0). No one can predict the innovations and business models it will create. However, it will be indispensable to discuss how Japanese IP policy and companies' IP strategies should change and what kinds of experts are needed in the field of intellectual property.
Last year, we examined how existing IP policies and systems should be changed to address the new above-described trends. This fiscal year, we will establish specific plans to implement these changes. As a world-leading IP organization, JIPA will continue to examine issues related to IP systems and IP management from the viewpoint of the industrial sector and make proposals based on our unique strengths.
Furthermore, we plan to study the legal systems of other countries and examine the contributions intellectual properties can make. We will never give up on the possibility of discovering new potential for intellectual properties and will continue to make our best efforts to nurture IP experts. We will also carry out projects to raise awareness among corporate executives of the importance of the global use of intellectual properties.
May 2017

Kenji Kondo, President 2017